SNMP Informant
Premium

- Product Information
Product Links
Description
SNMP Informant Premium is a bundled product, containing all SNMP Informant Products as well as customization enhancements that allow you to make the most of your network management infrastructure. Enhancements include:
Monitor custom performance counters
Monitor custom WMI classes
Monitor registry values
Initiate custom scripts and collect their data output
Extend SNMP informant to "listen" to your own IANA Private Enterprise Number.
---
Included Products
SNMP Informant Premium includes the following SNMP Informant Products:
Click to visit each Product's home page for product details.
---

By reading a "Agent Definitions" file on startup, SNMP Informant Custom makes it possible for you to monitor applications that publish performance information to the Performance Monitor applet, but that are not otherwise SNMP enabled. For example, many companies have written custom programs, and those programs can be monitored locally using Performance Monitor. Now, you can "SNMP enable" those applications using SNMP Informant! The Agent Definitions file is a simple text file, and can be modified using Windows Notepad or another editor program.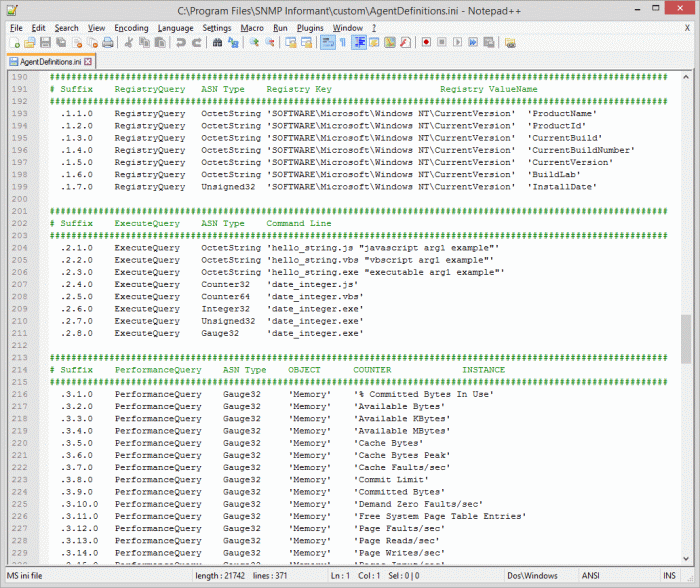 The MIB file included with the SNMP Informant Custom provider is a sample only, built to correspond to and demonstrate the capabilities of the product. Once installed and started, SNMP Informant Custom will respond to SNMP requests. The screenshot below shows SNMP Informant Custom responding to an SNMP WALK message in the Registry tree. Data returned comes from the Custom provider accessing the registry on a Windows system as per the Agent Definitions file above.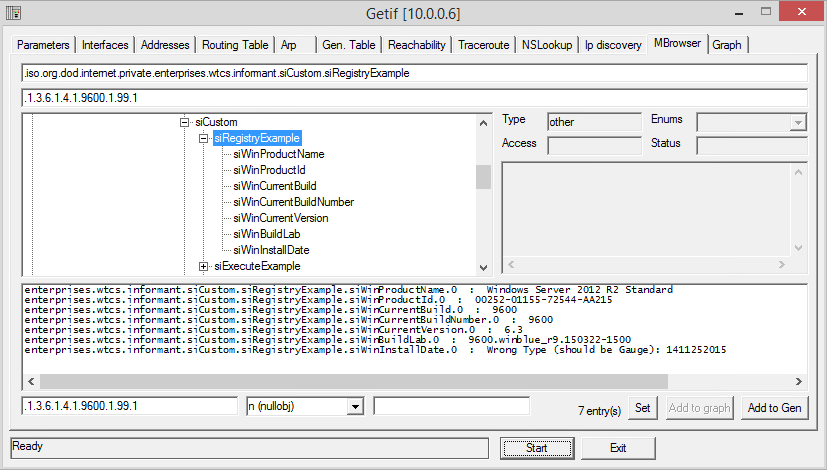 Click here to see an OID tree listing for Informant Premium Custom Provider
---
MIB Files
You can get the current SNMP MIBs for this product by requesting an evaluation download here.
---
Important Information
Because SNMP Informant Custom lets you define your OWN OIDs, you are responsible for the creation and maintenance of a MIB file that corresponds to the Agent Definitions.ini file. To make it easier for you we have included a sample MIB file (as part of the installation) that corresponds to the sample Agent Definitions.ini file that ships with the product. Feel free to modify THAT one or use your own.
Here are a couple of suggestions for you to improve your MIB editing experieince:
Use a text editor with a highlighter, and copy an existing MIB and make it your own. Here's a link to ConTEXT, a decent freeware (albeit no longer updated) editor, and the ConTEXT SNMP MIB Highlighter. Install ConTEXT, and then download and save the highlighter as SNMPMIB.chl in the Program Files/Context/Highlighters directory. Then, open a MIB file, and you should see syntax highlighting for SNMP MIBs, making it much easier to read (see image below).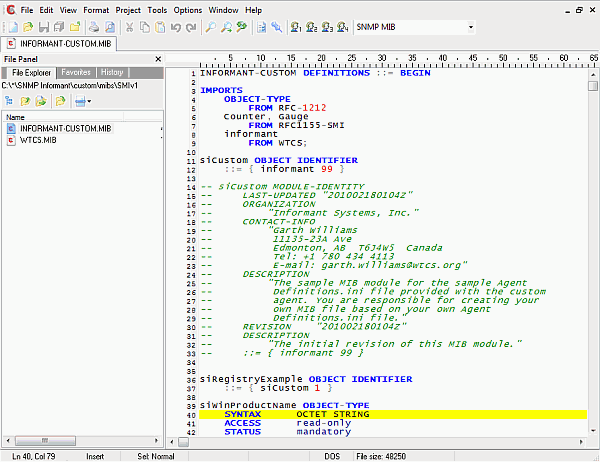 Purchase a proper MIB Designer program. If you are going to get serious about using the SNMP Informant-Custom provider, this is the way to go. There are couple good ones out there. Check out MIBDesigner for starters.
Note: Due the extensive customization capabilities of SNMP Informant Custom, Informant Systems will provide only limited support for custom MIB file issues. If we determine an incident to be related to a modification of the sample MIB file included with SNMP Informant-Custom, or if it involves a user's custom MIB file, we will be limited in our ability to assist you.
By purchasing SNMP Informant Premium, you're making a smart decision. Here's why:
You're saving money! If you were to purchase a single copy of each SNMP Informant provider, you'd pay $1,035.00. By purchasing all our agents in a single license of SNMP Informant-Premium for only $750.00, you're saving almost 30%!. Plus, if you order 11 or more Premium licenses, you save an additional $75.00 per copy!

You get increased installation flexibility! We've made it so that you can install SNMP Informant providers wherever you want them, without any pre-requisites. What that means is that if you buy 5 licenses of SNMP Informant-Premium, you can then install 5 copies of each component on any 5 servers on your network. Further, the Premium product supports unattended installation. You can save the installation parameters to a file (in essence, "recording" your installation), and then "replay" the installation on other servers throughout your network.
To find out more about the individual components that make up SNMP Informant Premium, see our Products Page!
---
Pricing
SNMP Informant Premium is priced according to the table below. All prices are in US Dollars. We offer a discount to educational and non-profit organizations. Call for a quote today!

Click here to order.
| | | |
| --- | --- | --- |
| SKU | Description | Price |
| SI-PREM-SINGLE | Single License (Qty. 1-10) | $750.00 |
| SI-PREM-SINGLE | Single License (Qty. 11-50) | $675.00 |
| SI-PREM-SITE | Site License (unlimited installs, single location) | $16,000.00 |
| SI-PREM-ENT | Enterprise License (unlimited installs, unlimited locations | $19,500.00 |