SNMP Informant Product Information
About our Product Line
The SNMP Informant product line consists of 8 products, and 21 data providers. These products allow SNMP Network Management Stations unprecedented access to key Windows
performance, configuration and state information.
Read about them, and if you find one or more that interest you, you can download a 30 day, 2 server version of our Premium product. Upon installation, select only the components you want to try out. For example, if you only want to monitor the Windows Server OS, select "SNMP Informant Advanced Performance Provider".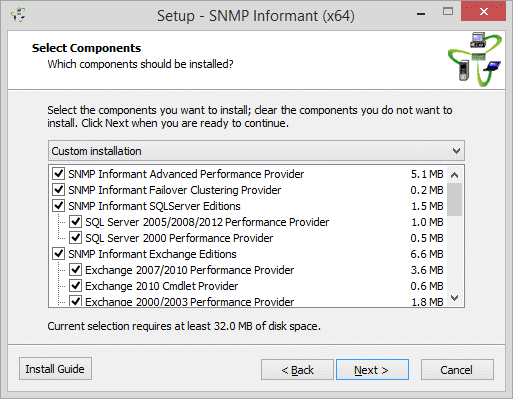 ---
Test Drive SNMP Informant Now! Product Literature
---
Why SNMP Informant?
Because Windows support for SNMP is limited. There is only so much information you can get.
SNMP Informant™ products enable you to overcome those limitations. By installing SNMP Informant on your Windows servers, you can immediately use the Simple Network Management Protocol (SNMP) to collect performance, state, operational and custom information as well as control your Windows Server infrastructure. That's because SNMP Informant "hooks" into Windows sub-systems at an extremely granular level through what we call data providers.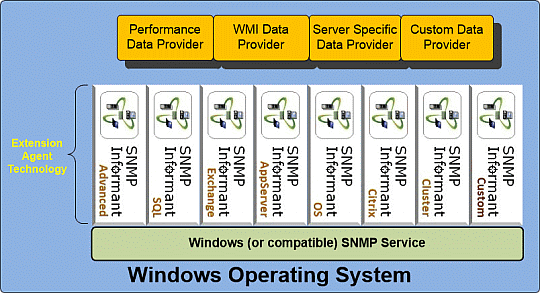 Click here to find out more about our data providers. Click the Product Links on the left to find out more about each of our SNMP Informant products.
Want to find out about what sets SNMP Informant apart from the "out-of-the-box" Microsoft SNMP service? Read this document. It briefly describes the Microsoft SNMP service, what support it provides and what SNMP Informant can do. It also touches on SNMP Informant's interaction with WMI.
Product Literature - Here you can access the User Guide and License Information without having to download and install the product.