SNMP Informant Product Purchase Page
How To Purchase SNMP Informant
This ordering page will allow you to purchase SNMP Informant through PayPal. If you do not want to open or use a PayPal account, you can still purchase through PayPal using your credit card. If you prefer, Informant Systems also accepts American Express, VISA, and MasterCard directly Build up your shopping cart, and call us with your order.
---




---
Note: If purchasing using PayPal, DO NOT ADJUST THE QUANTITY IN THE SHOPPING CART. It will ALWAYS be 1. Quantities are controlled by THIS ordering form.
Click here if you would like to order software maintenance
Click to read our Support/Maintenance and Refund policies.
---
Part Numbers:

SI-ADV SINGLE
SI-ADV-SITE
SI-ADV-ENT
---
Part Numbers:

SI-SQL SINGLE
SI-SQL-SITE
SI-SQL-ENT
---
Part Numbers:

SI-EXCH SINGLE
SI-EXCH-SITE
SI-EXCH-ENT
---
Part Numbers:

SI-OS SINGLE
SI-OS-SITE
SI-OS-ENT
---
Part Numbers:

SI-APP SINGLE
SI-APP-SITE
SI-APP-ENT
---
Part Numbers:

SI-CLUS SINGLE
SI-CLUS-SITE
SI-CLUS-ENT
Click to read our Support/Maintenance and Refund policies.
---
Part Numbers:

SI-CTX SINGLE
SI-CTX -SITE
SI-CTX -ENT
---
Part Numbers:

SI-PREM SINGLE
SI-PREM-SITE
SI-PREM-ENT
---
If you'd like to purchase with a credit card and NOT with PayPal, go through the PayPal ordering process, and build up the shopping cart as if you were going to purchase through PayPal ...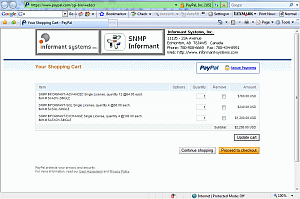 Then, don't check out, but print the order page and give us a call at 780-908-6669, and we can take your order over the phone. Click here to begin this process.
---
Your purchase includes 1 year of free email support, and 1 year of free program upgrades. After that time, you can order/renew product maintenance, at at costs of 20% of the equivalent product's current web purchase price. If you are behind, and want to renew, ask about our "maintenance catch-up packages. Contact us us and request a maintenance quote.
---
Since Informant Systems provides a 30 day, 2 Server fully functional evaluation of ALL OUR PRODUCTS (through the evaluation link on the main page), we do not offer refunds. We strongly encourage you to try our product(s) before you buy. That way you will see for yourself whether SNMP Informant will do the job for you!
---
Informant Systems offers a 100% free and very useful SNMP agent. SNMP Informant Standard is completely free, and allows you to monitor over 60 stats from the the "core four" system performance indicators (CPU, Disk, Memory and Network). Download it now, and give it a try! Hundreds of companies around the world are using SNMP Informant-Standard across their Windows enterprises. Find out why!! Check it out!
---
Part Numbers:

SI-STD SINGLE
SI-STD-SITE
SI-STD-ENT
Use SNMP Informant Standard where and when you wish. There are no installation restrictions, and it ban be used for personal and/or corporate purposes.

lmportant Restriction: While free to download and use by anyone for any (intended) purpose, SNMP Informant (freeware version) may not be distributed with any commercial or non-commercial (i.e. open source or freeware) product without written (or email) permission from Informant Systems, Inc. Program authors, software resellers or commercial product developers interested in bundling or reselling SNMP Informant are encouraged to contact us.